"Don't take this the wrong way, but you play like a man" said blues legend Jimmy Thackery. Maria Aurigema was born in Buffalo, NY. She is the youngest of four in a family of all boys. Aurigema means golden gem in Italian and there could not be a more fitting title for this talented artist.
Maria experienced an early exposure to life in the entertainment industry. Her multi-talented father, Jay Aurigema, owned a 30 room mansion in North Tonawanda, NY which became the stop-over for many artists and entertainers performing at Melody Fair in the 1970's. The DeGraff Mansion still contains a room where the walls are covered with signatures of these entertainers including Anna Marie Alberghetti, Donald O'Connor, Dean Jones, Sylvia Sydney, Martha Raye, John Raitt (Bonnie Raitt's father) and scores of others. Though Maria was only a little girl at the time, she remembers the frequent late-night parties that filled the mansion.
Maria's early musical talent was something she shared with her father and was nurtured and developed with the help of her mother. Beginning with guitar lessons at the age of eight, and flute lessons at the age of nine, Maria began her musical journey.
GuitarBeing one of the only girls in school who could really play the guitar provided a comfortable niche for Maria, and guitar playing quickly became her passion. Maria studied jazz with Buffalo guitarist, Stu Weissman and worked hard to master the complex jazz techniques. Early jazz influences included: Al Dimeola, Joe Pass, Pat Metheny and John McLaughlan. Maria continued her studies and became increasingly immersed in the local music scene. She would argue with her mother to let her borrow the car so that she could go to the Central Park Grill in Buffalo where she would sit for hours to listen to the seductive fusion music of Gamalon (Teddy and Tommy Reinhardt, George Puleo, Bruce Brucato and Geoff Perry), and the heartfelt blues of the Black Cat Blues Band (John Brady and Willie Haddath and the Reinhardts).
Soon she discovered a burning love of the blues. With all the musical training and theory that Maria was immersed in, somehow the genre felt too restrictive. Too many rules made improvisation frustrating and heartless. She began to create her guitar sound more out of feeling while being aided by the great techniques she had gained over the years. Her love of guitarists like Jimmy Page, Carlos Santana, Jeff Beck, and Eric Clapton, gave her the inspiration to play the guitar, and artists like BB King, Albert King, and Buddy Guy gave her a foundation for learning to communicate the blues .
MariaMaria is an energetic, gutsy, hard-driving original blues guitarist and singer/songwriter. Maria enjoys an enthusiastic following in Western New York and Canada and has performed at a variety of clubs throughout the region. She has performed with national blue's artists Tommy Castro, Johnny Winter, Clarence "Gatemouth" Brown, Tab Benoit, Elvin Bishop, Popa Chubby, Savoy Brown, Coco Montoya and Jimmy Thackery to name a few. Additionally, she has opened for Foreigner, Blue Oyster Cult, Edgar Winter, Little Feat, Credence Clearwater Revisited, Foghat, Steppenwolf, Sammy Hagar and Styx. One of Maria's most memorable moments came when she was asked by Jimmy Thackery to be a "special guest" in the Eureka Springs Blues Festival where she performed for a sold-out crowd along with Debbie Davies, Maria Muldaur, Kelley Hunt, and Reba Russell.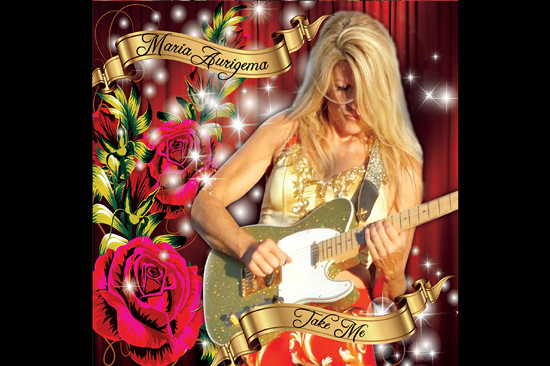 Maria teaches instrumental music in the Ken-Ton School district (a suburb of Buffalo). Maria has recently re-released her debut album Take Me contains mostly original music and hosts Downchild Blues Band members: Gary Kendall (bass), Mike Fitzpatrick (drums), Mike Fonfara (keyboards) and Pat Carey (sax). Also rounding out the line-up is: Larry Goodhand (guitar), Wayne St. John (percussion) and Toronto's own Jeff Healey appeared as "special guest" guitarist on three tracks.
Maria's latest release is titled Long Way Home, another collection of twelve brilliant guitar-driven original songs.  It's hard to imagine anyone not being impressed with Maria and her music! Check the events calendar at mariaaurigema.com or Maria Aurigema Band on Facebook to see when and where you can catch Maria Aurigema and her band. It's sure to be a performance you won't soon forget!